Butterfly Releases for Funerals
and Memorial Services
We specialize in butterfly releases for funerals and memorial services all over the UK Releasing live butterflies for a loved one is a unique way to honour and remember them. The butterfly has long been a symbol of freedom, love and new life or the beginning of a new journey.
Available Butterflies
(pictured approx. to scale (may differ on small screens))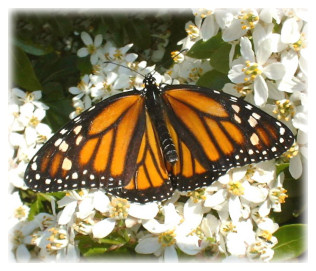 Monarch
Wingspan approx. 4"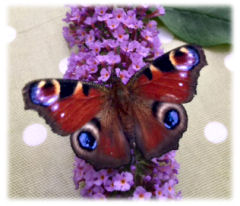 Peacock
Wingspan approx. 2½"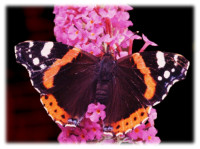 Red Admiral
Wingspan approx. 2½"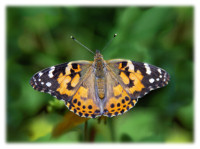 Painted Lady
Wingspan approx. 2"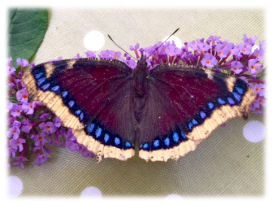 Mourning Cloak (Camberwell Beauty)
Wingspan approx. 3½"

How does it work?
The butterfly box will arrive on the day or the day before the funeral or the memorial service. The only thing that you have to do is to keep the box in a cool place until you are ready to release the butterflies. Don't worry about the butterflies - while in the box they are sleeping, they will only become active with daylight once the box is open.
There are two options - either an individual release, with one butterfly in each box or envelope, or a mass-release with 10 or more butterflies from one large presentation box.
We have found in our experience that the best butterflies for releases are the Monarchs and the Peacocks*.
Peacocks and Mourning Cloaks are our most popular butterflies and are ideal for releases anytime of the year, especially in the winter months as they are hibernating butterflies.
Monarchs are among the largest and most colourful of the British butterflies, and when released they tend to stay within the area as they have a slow, gliding & flapping flight. They also tend to float in the air currents above you and they look absolutely amazing. These are the best butterflies to use for releases. They have also proved to be a great success in the U.S.A., and are the most popular of the butterflies to release over there. When other, smaller species are released, they tend to fly off very quickly, making it hard for people to see and appreciate them.
*Some butterflies are available most of the year, others are seasonal. If your butterfly of choice is not available, we will supply other species of large, colourful butterflies instead.


...for pricing & more information about live butterfly releases for weddings, funerals and other events.
Please contact us for further details.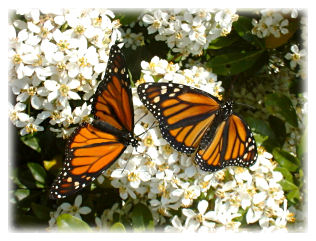 - Monarch Butterflies -
Please note that all of our butterflies are from captive-bred stock. No butterflies are taken from the wild.
---
Nigel South
35 Elmore Avenue, Lee-on-the-Solent, Hampshire, PO13 9EP, England

Mobile: +44 (0)7787 983176
Landline:+44 (0)2392 553322